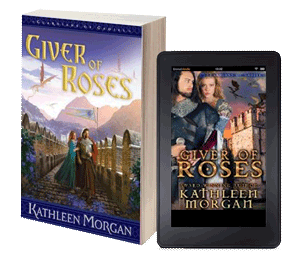 Giver of Roses - Guardians of Gadiel - Book 1
Publisher: Fleming H Revell
ISBN: 08007-3094-1

Order a signed copy from Kathleen:
(Please note: Due to high shipping costs, we can unfortunately no longer ship books outside the continental United States. Any international orders placed will simply be refunded.)
Download the ebook: Kindle | Nook
Buy this Book: Amazon
A fascinating world engaged in a conflict of epic proportions.
After a grueling, three-year siege, Vartan Karayan, royal heir of Gadiel, is the only obstacle between the enemy and his beloved city of Astara. Yet when an invincible adversary leaves him critically wounded, the true battle has just begun. Escaping with the help from Danae, a captive who saves his life, Vartan struggles to trust the God Danae follows.
Meanwhile, Danae fights to find her purpose in all of this. When she is called to join the Dragonmaids, it seems clear. Yet facing the physical and spiritual truths looming before Danae and Vartan as they fight to save Gadiel demands a courage and love that transcend life itself.
Amidst an enchanting world engaged in a conflict of epic proportions, Kathleen Morgan reveals how hope and faith can lead to unexpected outcomes when one surrenders to divine direction.
Reader Reviews:
"A doomed city, desert warriors, a sorceress, a demon-possessed warrior-king, mysterious prophets and prophetesses, weeping dragons, flying dragonmaidens, a death-defying quest, and a love denied--Kathleen Morgan gives her readers all this and more in Giver of Roses. Morgan paints the story with rich language, well-drawn characters that a reader hates to leave, and a fast-paced plot. Fantasy lovers will love Giver of Roses." -Christian Book Previews
"Heroes and heroines who are truly noble, but flawed, and who are ready to do the bidding of their Creator with no guarantee of the outcome, are few and far between. Giver of Roses is a welcome addition to the fantasy-fiction genre, and can hold its place with other epics, such as Lord of the Rings and Chronicles of Narnia." -InFuze Magazine
"Giver of Roses will take your breath away! ..Overwhelming, heart wrenching, and beautiful epic tale of good versus evil in the mythical land of Gadiel. I very HIGHLY RECOMMEND this book." -Inspirationalromancewriters.com
"Giver of Roses is simply fantastic...Sit back with a hot cup of tea and a whole day to read ...Don't be surprised if your tea gets cold." -The Road to Romance
"Kathleen Morgan introduces a fantasy realm of flying dragons, magic portals, sorceresses and the classic battle of good vs. evil. Fantasy readers will be eager to follow Morgan's memorable characters through the second and third books to come." -Christian Retailing
Endorsements:
"Giver of Roses is a feast for the imagination! Kathleen Morgan writes High Fantasy in the grand tradition of Anne McCaffrey and Katherine Kurtz, yet her writing sparkles with energy and originality. She's invented a strange, exotic world that never was, but should have been. Her heroes and heroines are strong and unforgettable. The tale is rich in plot twists, romance, clashing swords, fantastic creatures, and compelling themes of faith and redemption. You won't want the adventure to end—and happily for us all, it doesn't. Kathleen is already writing more tales of the Guardians of Gadiel—and I, for one, can't wait! -Jim Denney, author of the Timebenders series
"A fabulous read! Kathleen Morgan is a fresh and gifted voice in fantasy. Her prose is lyrical, her world imaginative, and her intrigues compelling. The characters may live in a fantastical world but their spiritual struggles are realistic and beautifully written. Giver of Roses is a delight and wonder. I can't wait for book 2." -Kathyrn Mackel, author of Outriders: The Birthright Project
"Giver of Roses by Kathleen Morgan is a story where the imaginary world is so real the reader forgets the saga is the product of someone's imagination and believes the history of the country. The dramatic plot is carried by fully developed characters. The suspense and plot twists will satisfy fantasy readers of the most demanding tastes. Bravo! Bring us more of the land of Gadiel. Giver of Roses is a winner!" -Donita K. Paul, author of DragonSpell and DragonQuest