Latest News from Kathleen Morgan:
SPRING 2012



Dear Friends:
I hope you're all having a wonderful Spring. I certainly am. My cool weather veggies are all planted, my tomato plants are snug in their water walls on our south-facing front porch (this is Spring in Colorado, after all, and our last frost date can be near the end of May), and my cherry and peach trees are in their new homes in the front yard, just outside my office window. Not only am I hoping for some shade from the summer sun in that window—leastwise in a few years when the trees are a bit bigger—but I can also keep an eye on the ripening fruit and those hungry birds.
Just to update everyone, we down-sized from our house in town, and built a nice little house on 5 acres about 2 years ago. I am so happy to be back out in the country! My husband and I have agreed never to move again. But who would want to at any rate? Well, not anyone who loves country life, I guess.

A NEW BOOK IN THE "HEART OF THE ROCKIES" SERIES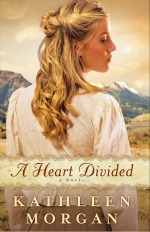 What with the house building, then moving and the extended period of time it always takes getting settled into a new house and putting up all the requisite fences, storage sheds, etc., I just didn't get around to sending out a newsletter announcing the May 2011 release of A Heart Divided. It's the first book in my new "Heart of the Rockies" series, and is still available both as a trade paperback and an E-book. A Heart Divided is the tale of Sarah Caldwell and Cord Wainwright, and is set amongst the wilds of the Colorado Rockies in 1878.

However, I am finally catching up with the May 2012 release of A LOVE FORBIDDEN, book two in the "Heart of the Rockies" series. Though, like all my series books, it's a stand-alone story, A LOVE FORBIDDEN picks up soon after A Heart Divided ends, and is the tale of Shiloh Wainwright and Jesse Blackwater. Here's a brief synopsis:
Moved by a compassionate heart and the desire for adventure, twenty-year-old Shiloh Wainwright impulsively accepts a teaching position at the White River Indian Agency in northwestern Colorado. Eager to use her skills to help improve the lives of Ute Indian children, she looks forward to a fulfilling, independent life on the Colorado frontier.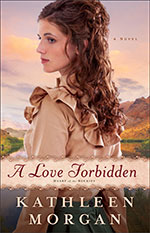 But her new job isn't what she imagined it would be, and Shiloh soon finds herself caught in the cross fire between the Utes, their unyielding Indian agent, and a demanding U.S. government. Her unexpected encounter with a half-Ute childhood friend, Jesse Blackwater, only complicates matters as they battle their growing feelings for each other amidst spiraling tensions that threaten to explode into a catastrophic uprising.
Read an excerpt of the story.

MORE BOOK NEWS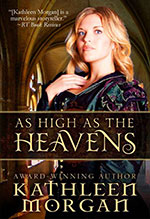 I am in the process of turning a few of the books I've gotten the rights back to into E-books. The first one, As High As the Heavens, is already available, with a brand new—and I must say gorgeous— cover. For a limited time, it's now only $3.99! Click here to link to it on my website that will take you to Amazon.com where the e book is currently available.
Next in line for E-book formatting will be two more Scottish Highland novels, Embrace the Dawn, then Consuming Fire, and then my three Culdee Creek Christmas novellas (All Good Gifts, The Christkindl's Gift, and One Perfect Gift). If all goes as planned, I hope to have all three of those books available as E-books by this Christmas season. You can read about all these books on my website.
Many of you, over the past few years, have been asking about when the sequel to my Christian fantasy, Giver of Roses, will be available. Book two in the "Guardians of Gadiel" series, Stone of Power, has yet to be written, but I hope to begin writing it later this year. I truly do intend to finish this entire, three book series. It is and has always been near and dear to my heart. Whether I eventually sell the entire series to another publisher, or format them as E- books, still remains to be seen. They will get done, however, and made available to you, my readers—at the very least in an E- book format. I'll keep you posted via my website and periodic newsletters, as I have more information about my progress and publication dates.

CLOSING THOUGHTS & THANKS
Please continue to keep me in your prayers, as I will always keep you in mine. And thank you for all the wonderful, encouraging emails and letters. I cherish them more than I can say, my anamchara…my soul friends.