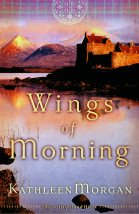 Wings of Morning - These Highland Hills - Book 2
Publisher: Fleming H Revell
ISBN: 0-8007-5964-8
Order a signed copy from Kathleen:
(Please note: Due to high shipping costs, we can unfortunately no longer ship books outside the continental United States. Any international orders placed will simply be refunded.)
Buy this Book: Christianbook | Amazon | Barnes & Noble
Love and betrayal in the Scottish Highlands
Orphan and heiress, Scotswoman Regan MacLaren is a bride of but one day when her husband is murdered. A seemingly cruel fate, however, has even worse in store for her. Iain Campbell, laird in his own right and a fierce warrior, is waiting for the love he knows God will bring him. Still, a woman near death and without a memory isn't quite what he expected.
Yet even as Regan and Iain come to know and love each other, lost memories aren't the only obstacles in their way. Iain's a suspect in her husband's murder. Others stand to gain if Regan remains in her dead husband's family. And Iain soon becomes a stumbling block to unholy ambitions—ambitions that may well lead to more deaths, Iain's included.
Reader Reviews:
"Breathtaking. Once you pick it up, you'll be hard pressed to put it down until the final page." -Roundtable Reviews
"Author Kathleen Morgan leads the reader on a kilt-wrinkling adventure while all the while weaving in Biblical principles of trust and forgiveness. Be prepared to not only enjoy the fast-paced action, but also to do a fair amount of introspection on the state of your own willingness to forgive." -Novel Reviews
"Morgan's skilled pen transports readers to another time and place filled with honor, faith, and chivalry. A beautifully woven tapestry, Wings of Morning will please historical romance fans, especially those who enjoy Liz Curtis Higgs." -Library Journal
"Kathleen Morgan brings readers a second helping of late 1500s Scotland in book two of the These Highland Hills series. Clan feuds, murder, deceit, romance, and faith combine to make a historical Scottish tale that has earned a place on my keeper shelf alongside its prior companion." -Inthelibraryreview.com