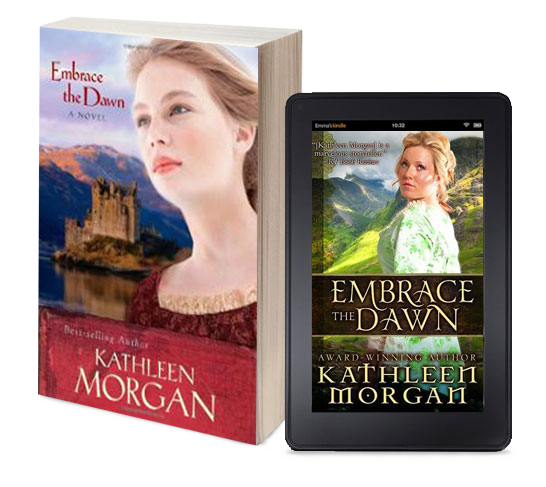 Embrace the Dawn
Re-released from Tyndale Publishers, November 2007
ISBN: 1-4143-1366-7
Order a signed copy from Kathleen:
(Please note: Due to high shipping costs, we can unfortunately no longer ship books outside the continental United States. Any international orders placed will simply be refunded.)
(Please note: autographed copy may be an original or a recent edition)
Download the e-book: Kindle | Nook
Buy this Book: Amazon | Barnes & Noble
After barely escaping an abusive marriage, Virginia colonist Killian Campbell swears she'll never allow another man to hurt or control her again. Unfortunately, she and her five-year-old son are now alone in the Scottish Highlands, penniless, and with no way of returning to their plantation in the Virginia colonies. Then, in answer to her prayers, the Lord brings a wind of change in the most unwanted of ways—in the form of yet another troublesome man whose life He places into her hands.
Rumored to have murdered his first wife, Ruarc MacDonald, laird of Rannoch Castle in the valley of Glencoe, has problems aplenty without also taking on those of a strange little foreigner. Still, time and again, fate seems to thrust them together as they fight to survive amidst the feuding, plotting, and hardships of 17th century Highland living.
As an old grudge repeatedly threatens Ruarc's life, his relatives scheme to steal Rannoch, and both he and Killian grapple with their deepest beliefs and fears, storm clouds of political intrigue far beyond Glencoe presage dire retribution for clan MacDonald. Yet even as their carefully built defenses finally succumb to the power of a growing love for each other, the long-feared calamity strikes, threatening to destroy everything. Killian and Ruarc must find a way to stand true through the long, dark night of despair—for their love, honor, and very faith—if they're ever again to Embrace the Dawn.
Winner, 2002 Rose Award for Best Inspirational Romance. Finalist, 2002 Dorothy Parker Awards of Excellence for Mainstream Fiction
Reader Reviews:
"Ms. Morgan brings 17th century Scotland to life with her powerful story about death, deceit, and destruction." -Romantic Times
"Realistic dialogue, a vibrant setting, and powerful narrative all held me entranced from beginning to end. Embrace the Dawn is Ms. Morgan's best story to date." -The Romance Readers' Connection
"Well-written, exciting, and action-packed story. Expect some crossover appeal to fans of Diana Gabaldon's Outlander …especially those who prefer their Highlands action to be clean-cut and faith-based. Recommended for all collections." -Library Journal
"Kathleen Morgan pushes the envelope of emotions with Embrace the Dawn, an uplifting and dramatic tale of two people who never expected to find love again. I can't wait to read the sequel!" -The Word on Romance